You are delivering four hurricane prep packs to Puerto Rico
Here at Together Rising, we have continued to stand with families and children in Puerto Rico since 2017—investing a total of $472,770—and will continue to stand with them now.
Hurricane Fiona's 85 MPH winds and 27 inches of rainfall has caused catastrophic damage, from mudslides to flooding to an island-wide power outage devastating more than 3 million people. So many communities have worked hard to rebuild since 2017's absolutely devastating Hurricane Maria. Some were still deep in the process. In a matter of just minutes, years and years of progress was decimated.
Urgent relief is so desperately needed right now. That's why you are investing $50,255 in our long-time partner, Direct Relief, to procure and transport four hurricane prep packs.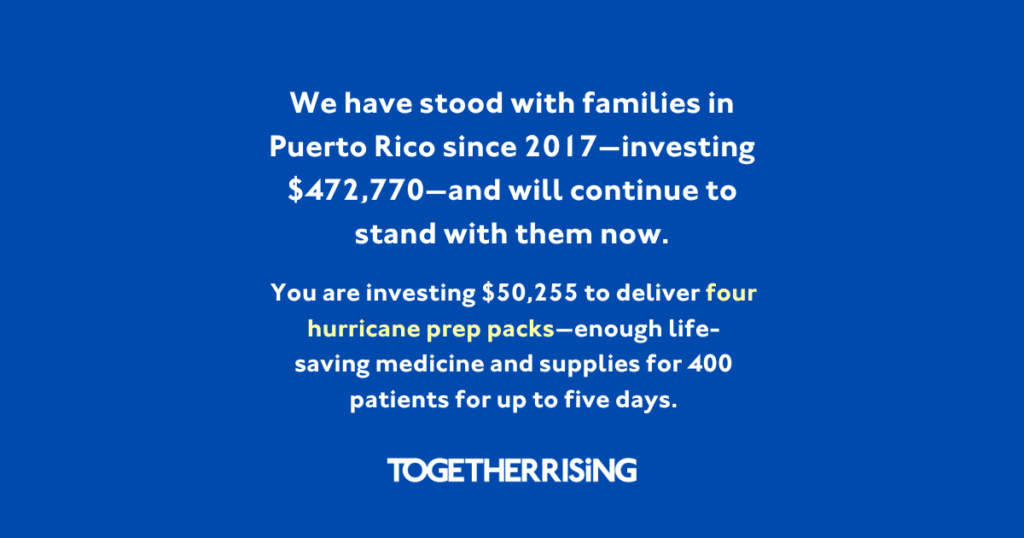 One pack contains enough medicines and supplies to treat 100 patients for up to five days, including vital antibiotics, syringes, basic first aid supplies, and medications. In addition to being both portable and waterproof, these packs were specifically designed to save as many lives as possible.
From treating basic traumas to chronic illnesses, you are delivering urgent relief to families and children devastated by Hurricane Fiona's wrath.
We are deeply grateful for TEAM LOVE, our recurring donors, whose steadfast support is what makes it possible for us to activate quickly to deploy funds to our partners on the ground.