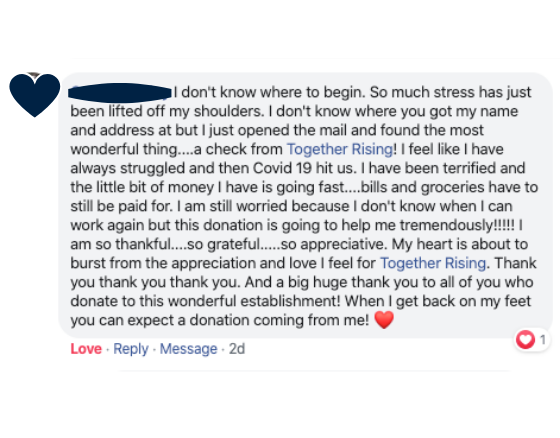 Diane posted this note on Together Rising's Facebook page this week.  Because you are the ones who transformed her heart from "terrified" to  "about to burst with appreciation and love," we wanted you to feel her gratitude for you.
Diane works hard cleaning houses for a living. Because of the pandemic, she is unable to work.  Her daughter -- who was heartbroken watching her mother anguish over how to buy groceries and pay her bills during this crisis -- reached out to Together Rising, asking us if there was anything we could do to help her mom get through.
Because you always show up for Together Rising, we were able to show up for Diane.
Diane's daughter didn't tell her that she had contacted us, so this week, Diane opened her mailbox and found a check she wasn't expecting. A check from you. A check that lifted her burden. She received exactly what she needed before she even asked.
Because of you, many people — just like Diane — are opening their mailboxes and seeing that their sisters have arrived, just when they needed you most. You are paying rent and  buying groceries. You are lifting burdens and easing worry.
And you will continue to show up — through Together Rising — until the needs have been met.