You deployed $100,000 to Texas for shelter, warmth, food, and water!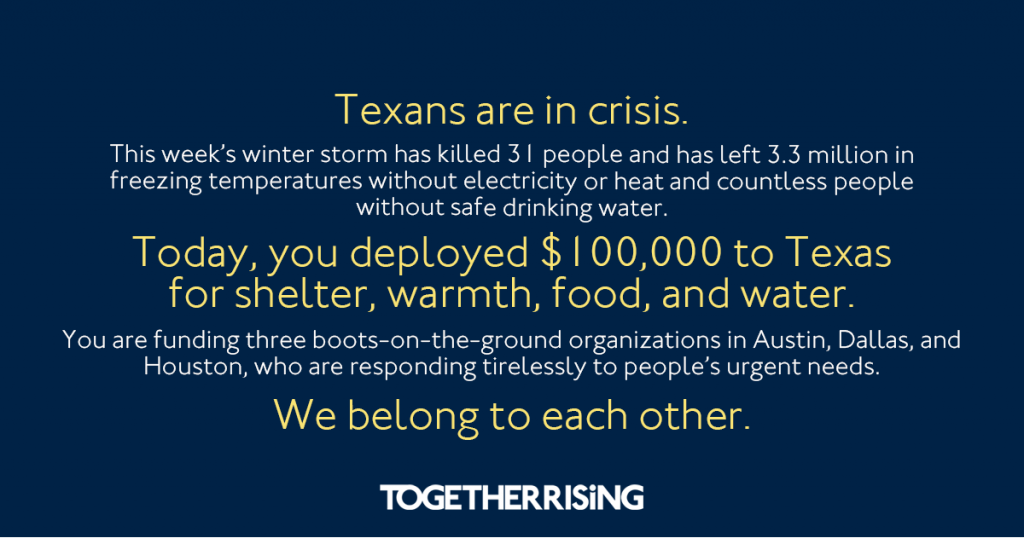 This week's winter storm in Texas resulted in the "largest forced blackout in history" according to Time, leaving at least 3.3 million in freezing temperatures without electricity or heat and countless people without safe drinking water. At least 31 people have died, including a grandmother and her three grandchildren who tragically died in a house fire while just trying to keep warm after being without electricity for eight hours. Pipes are bursting, causing severe damage to homes. Families have been warned their water is unsafe and needs to be boiled, yet many do not currently have the electricity required to do so.
For the approximately 27,229 unhoused individuals in Texas, the storm's deadly, dangerous conditions have made it near impossible to secure life-saving shelter without outreach from tireless organizations mobilizing to get to them.
Today, you deployed $100,000 in emergency relief to Texas.  You are supporting:
AUSTIN STREET CENTER IN DALLAS: They are driving around the city to find unhoused people and providing them with masked transport to temporary shelters, where they receive warm food and clothes, medical care to tend to frostbite, and shelter.
HOUSTON FOOD BANK: They are providing vital food to shelters and warming centers throughout the community.
MOBILE LOAVES & FISHES IN AUSTIN:  They are activating their mobile program to feed unhoused people, get them out of the freezing cold, and transport them to shelters and warming centers. 
Texas: We see you, and we are standing with you.
Together Rising will be giving 100% of the donations we receive for the next week to help the people of Texas. If you wish to give, you can do so at togetherrising.org/give