You have invested over $10 million to fight for separated families & detained children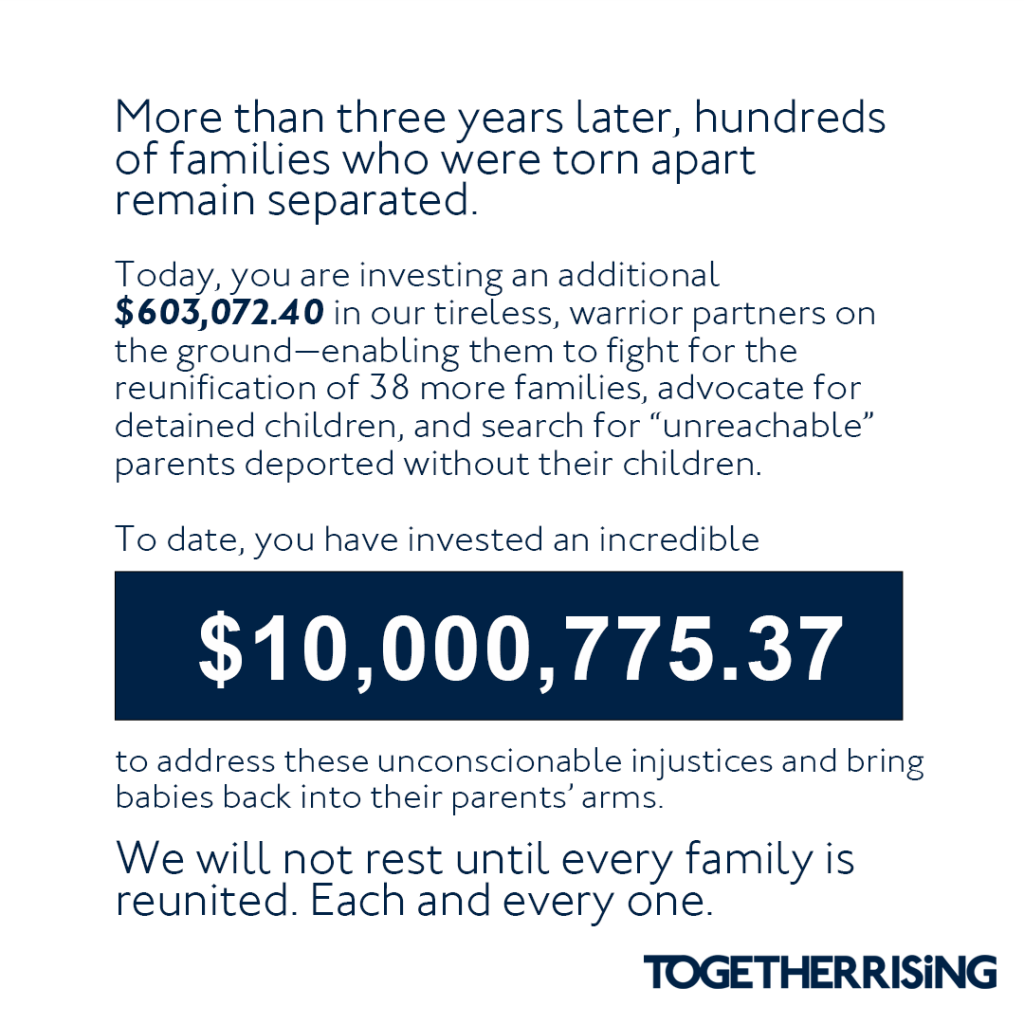 It's been more than three years for families who were separated since those parents have held their babies. Three years. Once three-year-olds are now six. Precious moments—years—have been forever lost. As Erika shared with us yesterday, every day that goes by is an "excruciating eternity" for these parents.
Can you imagine being forcibly separated from someone you love dearly—whether it be your child or partner or another loved one—for more than three years? And then after all that time, those responsible have still not rectified their wrongdoing and have no plan to reunite you?
This injustice is absolutely unconscionable. It was three years ago when we first began investing in those fighting for these families through this critical work — and it remains just as much so today, regardless of who is in power.
That's why you, through Together Rising, have invested nearly $9.4 million to enable advocates like Erika to tirelessly scour the earth to find these parents, bring their babies back into their arms, and fight for the rights and humane treatment of detained children.
Today, we are announcing your additional investment of $603,072.40. Because of you:
Justice in Motion will continue to find "unreachable" parents, just as we witnessed firsthand when they helped find 90 parents two years ago.
The Safe Passage Project will continue advocating for refugee and unaccompanied children after they are released from detention, and providing them with social work services to help with health care, education, and mental health.
Al Otro Lado — which has returned and reunited more families after parents were deported without their children than any other organization — will ensure the return of 38 more parents and reunite them with their children, and will provide them with critical essentials and mental health services.
To date, you—the people of the impossible—have invested over 10 million dollars into this world-changing work. Today, we stand steadfast in our resolve. We will not rest until every baby is returned to their parent's arms. To see where every penny has been invested and your impact in this crisis, please go to togetherrising.org/family-reunification.