You helped ease an immense weight on Lydia's shoulders
"I am completely tapped out in every way, physically, emotionally, spiritually, mentally and financially."
Lydia—a single mom to two teenage children—was carrying an immense weight all on her own.
Together Rising exists to be a place to turn. When she wrote to us, Lydia was trying desperately to make ends meet after being laid off. Her fifteen-year-old son was struggling with severe depression, anxiety, and disruptive mood dysregulation disorder. After exhausting every other option for treatment, he was in critical need of long-term inpatient mental healthcare.
Lydia was doing everything she could to raise the funds needed.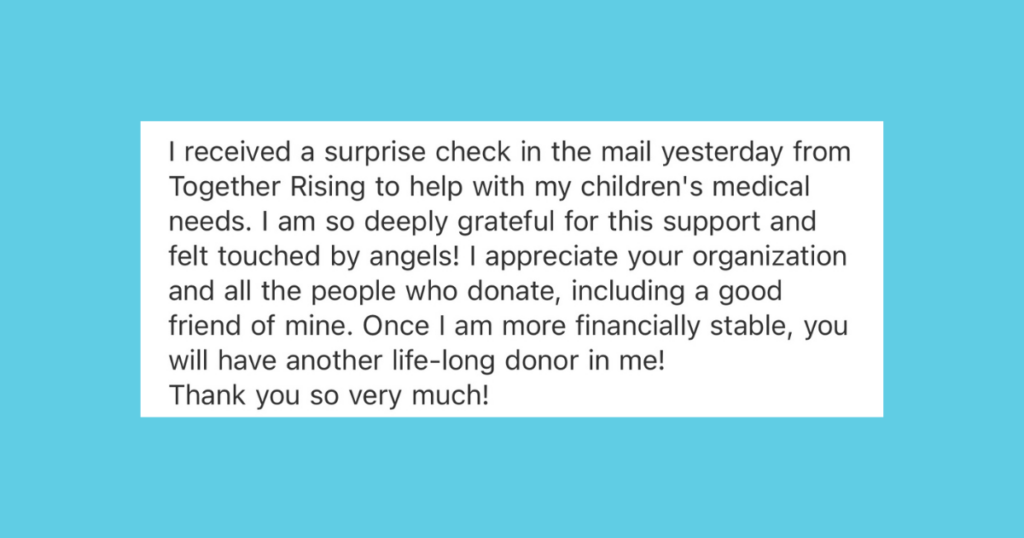 Together, we stepped into this gap by sending a direct grant to Lydia, easing that immense weight on her shoulders. Now she can focus on getting her son the care he needs.
To everyone who donates and supports our work: Thank YOU for enabling us to be a place to turn for Lydia and for so many more like her.
Note: A pseudonym has been used at the grant recipient's request.