You invested $50,000 to support women veterans and their children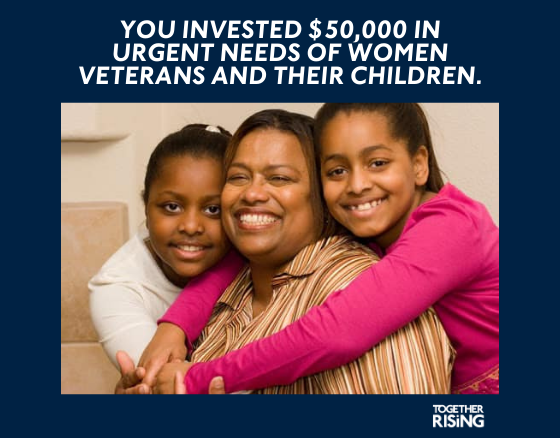 Together Rising honors the sacrifices and visible and invisible wounds of every veteran who has served and is serving in the military.
We believe that supporting our service members and their families is not just about bumper stickers and slogans and this particular day of gratitude – but about how we treat our veterans and their families every day. It's about ensuring they have the care, support, treatment, and housing opportunities they need. It's about serving them as they have served us.
Today, we are honored to share with you how you've shown up for veterans and their families through a $50,000 investment in homeless and at-risk female veterans with young children.
Through your support of Together Rising, you showed up for countless veterans -- like Christine. When Christine, a disabled Army vet with two young daughters, was laid off due to COVID-19 and unable to cover her bills, you stepped in to pay $563 to keep the power on for her and her babies.  
Nevada has the highest homlessness rate nationwide, and female veterans have been overwhelmingly impacted by the COVID pandemic.  We have been working closely with the Kline Veterans Fund to make a significant impact in the lives of vets like Christine by helping with rental assistance, utility and transportation expenses, childcare costs, and other urgent relief.  
To our Together Rising community: Thank you for remembering and investing in these veterans.
To our Veterans: We see you. We have not forgotten you. We are committed to honoring your service by making sure that you and your families are not forgotten.