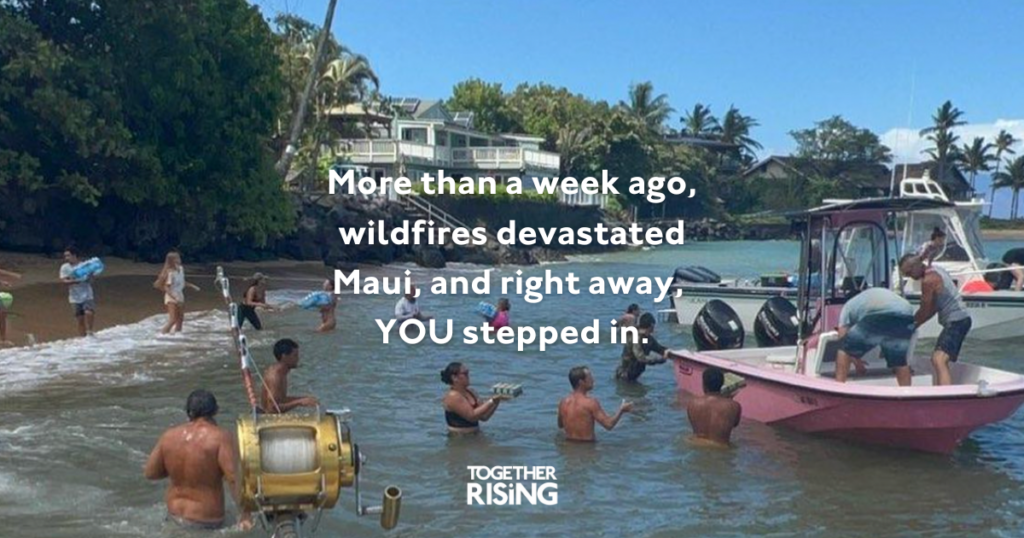 More than a week ago, wildfires devastated Maui, and right away, YOU stepped in. But, even as the news coming out of Maui has slowed down, we know that the heartbreak continues for so many. The latest reports confirm that at least 111 people have died, and over 1,000 people are still missing.
In the midst of this tragic news, we are grateful to announce this update. Since we began our fundraising efforts last week for Maui relief, more than 4,789 of you have donated $384,377.07.
Our team at Together Rising is committed to showing up long after the news cameras depart. And thanks to so many of you, the impact of your response will be felt for weeks and months to come.
We have already deployed:
$146,471.01 to the Maui Food Bank to provide essentials, including food, diapers, menstrual products, toiletries, and other critical items, and
$146,470.98 to Ka Hale A Ke Ola Resource Centers, helping them provide shelter, housing, and other resources to those impacted by the wildfires.
Today, we are deploying an additional:
$10,000 to Na Keiki o Emalia will directly support grieving families in crisis as they grapple with the loss of their homes, belongings, and sense of security.
$40,718.04 to Nā Kama Kai to support this Native Hawaiian-led organization's work to receive, transport, and manage the distribution of critical supplies to individuals on the ground in Lahaina/Maui.
$40,718.04 to Maui Hui Malama to further their efforts to supply food, basic-need supplies, and gas and grocery gift cards. They will also host family support days for displaced families to come together to share a meal and be in community.
Any remaining resources will be directed towards individuals and families seeking assistance.
To all those who have donated and shared, THANK YOU! Together, we are harnessing our heartbreak into hope for families and communities in Maui.
In love, solidarity, and hope,
Together Rising