You + Warrior kids + Laura + horses = BIG LOVE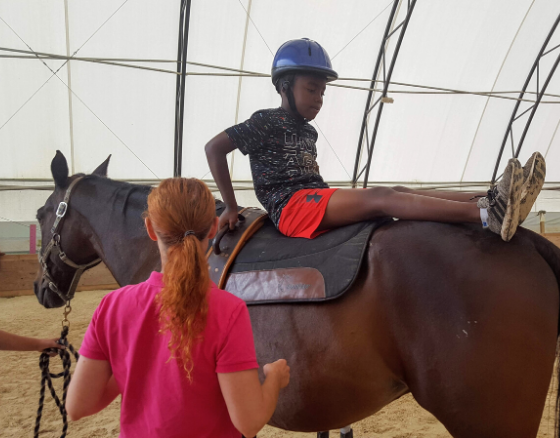 Laura is a volunteer at a therapeutic horse barn in New Jersey. She is passionate about helping animals and at-risk youth, and took a leap of faith to pitch her dream idea to the 
barn owner: A summer camp for foster children. The owner said, "If you can pull it off, you can do it."
And she did! The first summer she held a small camp called Hearts and Hooves, maxing out her own credit cards to fund it.
The kids who she welcomed at her camp have endured incredible trauma -- sibling separation, sex trafficking, severe abuse -- and her camp is a means to provide 
healing equine therapy, the joy of riding and a much-needed peaceful respite.
Laura wrote to us, explaining that she only had funds for six spots during the second summer-- but she had a list of kids in foster care who were desperate to be part of the camp, and was devastated to have to turn families away.
That's when you stepped in, through Together Rising, to make sure all ten kids on the list could attend the camp and share the incredible experience.
Laura wrote to us when the camp ended: 
"The kids that attended are all either currently in or have been adopted from foster care, and were able to come for a week of equine therapy camp completely free. The trauma 
these kids have been through is heartbreaking and they so, so deserved this week of respite. It's amazing to see the bond they form once they realize what they have in 
common, or how they melt at the unconditional love of a horse."
Thank you Laura, for following your passion into a way to light up the world.
Thank you to the barn owner for sharing your beautiful space to create more beauty for others.
Thank you to the horses for your unconditional, healing love.
And thank you to each of you, for investing in Together Rising, so that we can invest in these brave kids. We belong to each other -- and you just keep proving it again and 
again.