Your additional investment to keep searching for and reuniting families.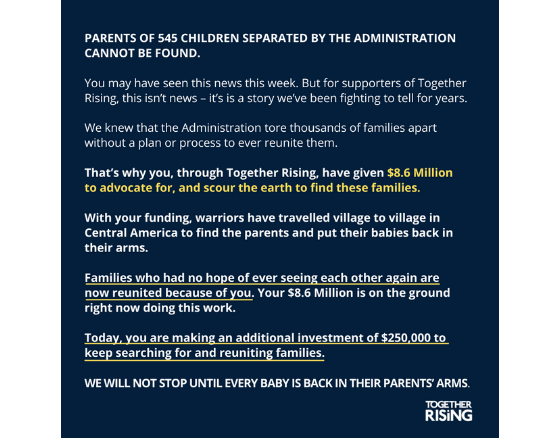 Three years.
That's how long some of these babies have been torn away from their families.
At least 545 of the thousands of parents whom the Administration separated from their children still haven't been found.
Read that again: 545 of the parents who were torn from their children by the Administration up to three years ago have been deemed impossible to find.
You may have seen the headlines this week.
For supporters of Together Rising, this is not news—it's a story we've been fighting to tell for years.
We knew from the start of this work together that the Administration tore thousands of families apart without any plan to reunite them – or documentation to make it possible to bring the families back together.
That's why you – through Together Rising – have given $8,590,998 to boots-on-the-ground warriors to advocate for, and scour the earth to find, these families – going village to village in Central America to find these parents and bring their babies back into their arms.
With your funds, parents who "could not" be found have been found.  Because of your funding, families who had no hope of ever seeing each other again are now reunited – together, as they should be.
Your $8.6 Million is on the ground doing this vital work right now, and you – through Together Rising – are making an additional investment of $250,000 to keep the search going.
We will not stop until every baby is back in their parents' arms.