$100,000 for Morocco Relief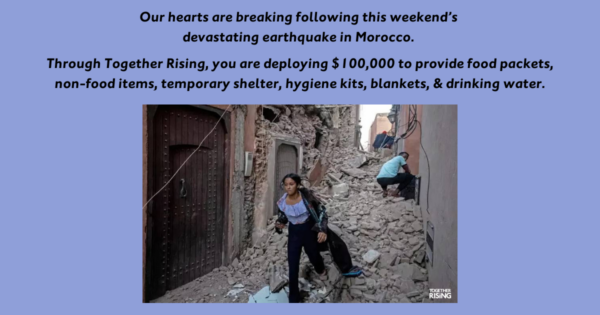 On Friday, Morocco experienced the strongest earthquake in more than a century. More than 2,800 people have been killed and at least 2,500 are injured.
Today, through Together Rising, you are sending $100,000 to International Blue Crescent (IBC), our trusted partner, to provide immediate aid. IBC is responding with core relief items, including food packets, non-food items, temporary shelter, hygiene kits, blankets, and drinking water. IBC is also establishing community safety points where people can gather to access services, seek shelter and protection, and receive direct support.
Thank you to TEAM LOVE, whose monthly gifts make it possible for us to deploy funds quickly to our partners activating on the ground. 
Photo courtesy of IBC