The People Your Love is Saving
This spring, the author Corban Addison traveled to Europe, following the route taken by hundreds of thousands of refugees from the Greek island of Lesvos to the cities of northern Germany. Along his way, Corban met volunteers from a dozen nations who saved lives using the funds you have given—making meals, distributing clothes, and surviving months with little sleep. He also met people we've helped—people who have crossed thousands of miles and endured innumerable perils only to find themselves trapped behind closed borders, living in tents, and wondering if their purgatory will ever end.
Together Rising and The Compassion Collective asked Corban to share some of his journey with us. We want you to hear more about the work you are supporting and the lives that are being saved through your giving. Let's join him on his journey.
***************
Part 1 –  I landed on Lesvos on a brilliant morning. The plane came in low over the sparkling Aegean and landed in the shadow of hills bronzed by the Greek sun. After renting a car, I drove across the island to Molyvos on the north shore—the rugged stretch of coastline that saw more than 400,000 refugees land in less than twelve months. An hour later, I sat down to coffee with a couple named Eric and Philippa Kempson. Sixteen years ago, they left England to raise their daughter in Greece. Theirs was a quiet life. He made carvings out of olive wood. She tended the shop and the home.
Then last spring the boats started coming, landing on the beach a stone's throw from their bungalow. The Kempsons' involvement in the refugee crisis was inevitable, but they went far beyond the call of duty. They turned their property into a waypoint for thousands of refugees who survived the perilous passage from Turkey. They hosted and coordinated volunteers and aid groups. They befriended the media. They became activists. The need drove them, as did their sense of humanity. They spent countless nights on the dirt track above the beaches, watching through telescopes and night vision for the pinpricks of light that signaled an arriving boat. They waded into the cold waves and brought sodden adults and terrified children onto the shore. Some mornings, they woke up to find bodies on the sand. They saw and experienced things they will never forget.
After coffee, Eric took me up a steep road to a hidden valley that now holds all of the life jackets left on the north shore since September. There were hundreds of thousands of them piled high toward the sky, all colors and sizes, including tiny ones for kids no more durable than swimmies. Many were ripped and bleeding packing foam—the hallmark of a fake. As I stood in their midst, I thought of the shoe room at the Holocaust Museum in Washington, DC. So many lives, so much grief, yet also so many reasons to hope. Most of the people who wore them lived to take them off.
Eric comes to the valley often for reflection. Many of the volunteers who worked on the beaches do the same. It's a pilgrimage now. They live with the memories of the dead. But the survivors are the ones who inspire them.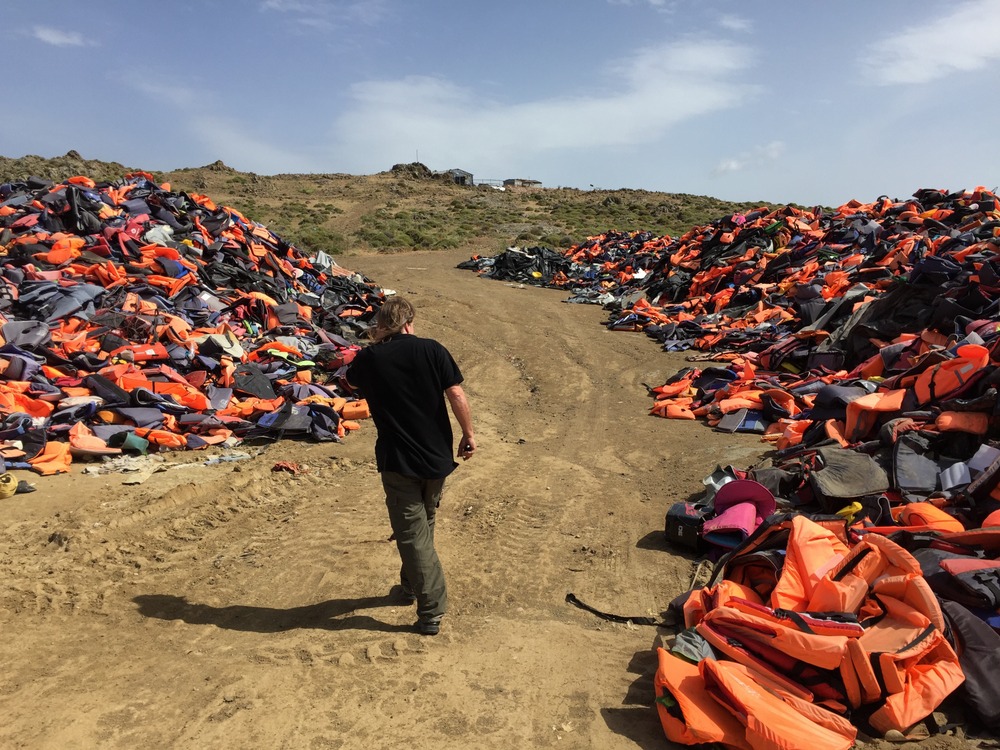 Part 2 –  What does a poor country do with tens of thousands of stranded refugees? This is Greece's conundrum now that the route to Germany is closed. I left Lesvos and went to the mainland to find out.
On the train to Thessaloniki, I learned that the Greek police had just followed through on their longstanding threat to empty Idomeni, a large makeshift camp on the Macedonian border. They had bused more than ten thousand refugees to new military camps scattered around Greece. With a referral from friends at Help Refugees, a group supported by The Compassion Collective, I met an American girl named Chris who agreed to show me around.
She took me to three of the new camps. There were tents erected in old warehouses, fields of mud and grass soon to be covered by gravel, rows of portable latrines and sinks to wash dishes, and people everywhere, adults sitting and talking, their children at play.
At a small camp on a rural hillside, a teenage Syrian boy invited Chris and me into his family's tent for tea. We sat cross-legged on a thick blanket, as the boy and his siblings crowded around. The conversation was stilted, a strange jumble of English and Arabic mediated by smartphones and Google Translate. The boy's mother heated water in an electric kettle and served us tea. The family was from Raqaa, an ISIS stronghold.
As I looked into their beautiful eyes, I wrestled with the grim reality of their situation. Their home was gone. Their country was vanishing. They had fled Syria with nothing, braving exposure to the elements, the mendacity of smugglers, and the tempestuous caprice of the sea. They had reached Europe only to find that Europe didn't want them. Their fate was in suspension, and they had no idea when relief might come. Yet for all this, their life hadn't stopped, nor had their hope died. Their smiles were genuine, their hospitality unfeigned.
They still believed in goodness. They still believed in the future. And I chose to believe with them.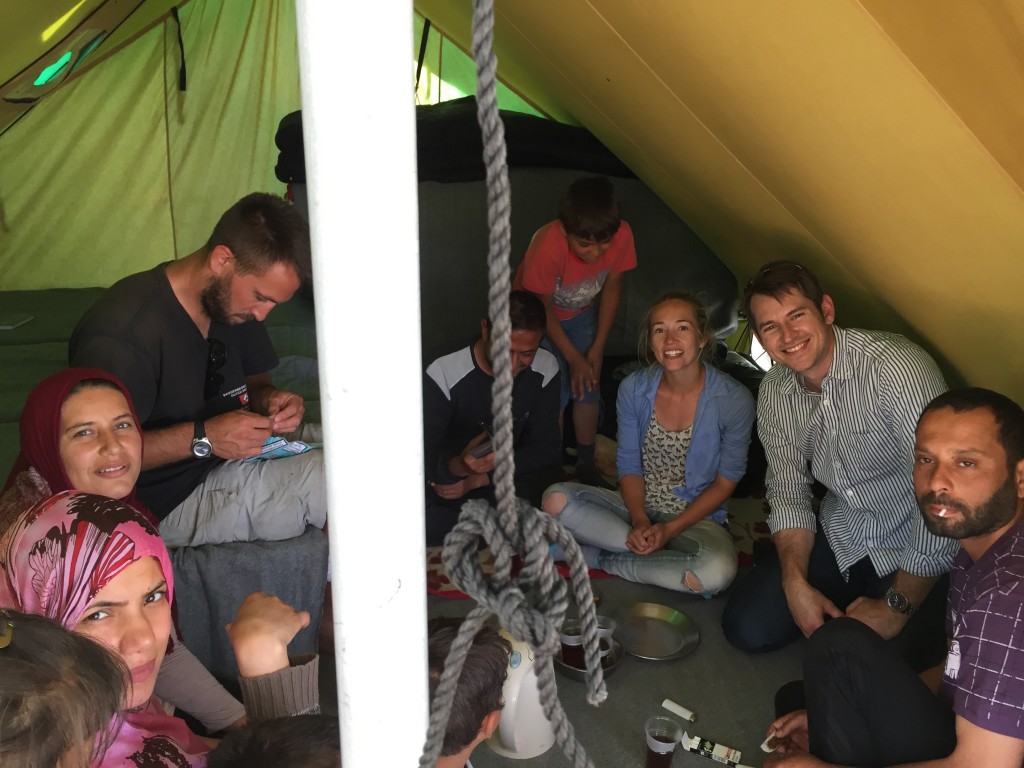 Part 3 –  Aslam is a thirty-something Syrian from Damascus. Before the war, he worked for the Red Crescent—the counterpart of the Red Cross in the Islamic world. He left Syria when he could no longer tolerate the risk. His mother is in a refugee camp in Lebanon. His hope was to claim asylum in Europe and bring her to live with him. The first boat he took from Turkey nearly sank. He swam to shore and tried again. The second time he made it to Lesvos. The refugees who were with him went on to the mainland. Aslam stayed behind. He saw the needs of his brethren, and he found he couldn't leave them. He had to help.
I met him on the veranda of the Park Hotel outside the town of Polykastro, ten kilometers south of the Macedonian border. After the borders closed in March, he followed the tide of volunteers to Idomeni and turned a second floor hotel room into a command center. The table on the veranda was his desk. From that spot, armed with a laptop, a smartphone, and a steady supply of cigarettes, he had organized the distribution of aid to countless hot spots across Greece. His network is as good as an intelligence agent. He works with anyone who can get the job done. Food, clothing, seed money for projects, floors for tents to keep the water out, whatever the need, people come to Aslam. They know he can make it happen.
Yet he's still a refugee. He has no permanent status in Greece. He can't take a taxi without subterfuge. He can't open a bank account. He lives to serve, but his life is not his own. His dark hair is long and slightly unkempt, and frames a profoundly honest face, the face of someone who fears no one and has nothing to hide. But his eyes are what captured me. In them, I saw the depth of his weariness, but I also the glow of indefatigable conviction. Aslam is a rare person. He has found his true self and chosen to share it with others.
He gave me two hours, a pearl of great price. Yet when I thanked him, he thanked me back. I was confused until he clarified. "It was really helpful for me to speak." Then I understood. The gift was mutual. I'd given him the chance to tell his story.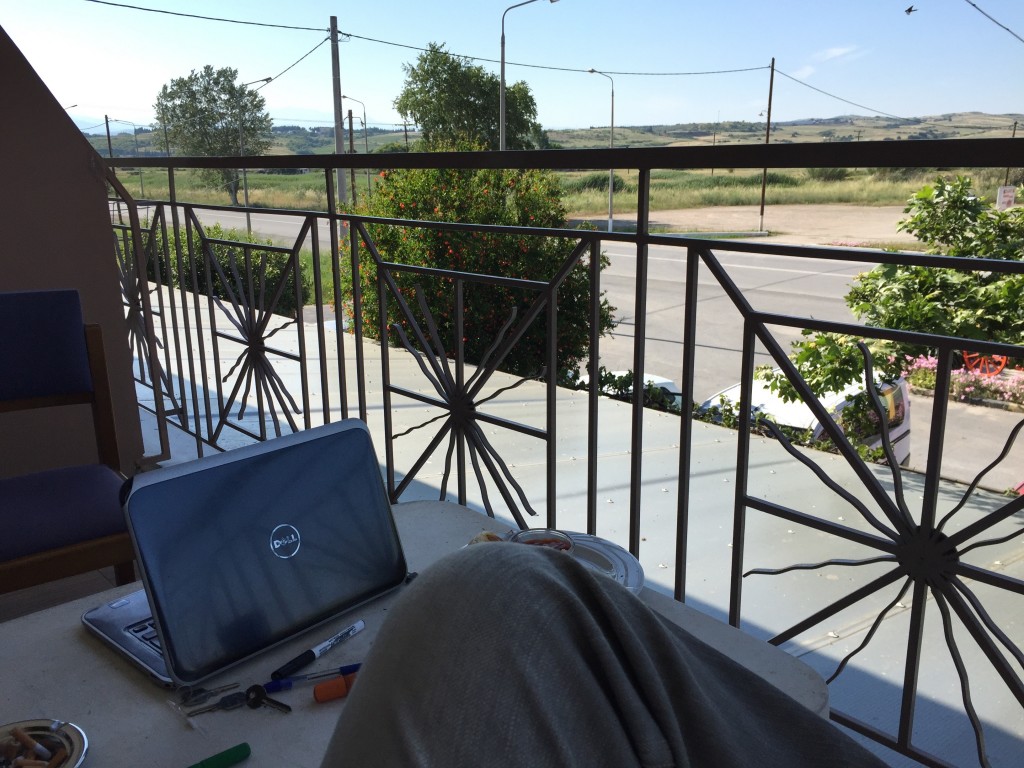 Part 4 –  The last stop on my trip was Germany. I wanted to see how a country of 80 million people has handled the influx of 800,000 new asylum seekers in one year. I also wanted to meet some of the people supported by my friends at The Compassion Collective.
In Berlin, I spent time with an amazing nurse-midwife named Ann who had volunteered at the LaGeSo registration facility during the crisis and still served refugee clients.  After Berlin I went to Hamburg, the refugee gateway to Sweden, and met a young man named Alex who had helped found Hanseatic Help, a non-profit collecting and distributing clothing to refugees across Europe and the Middle East. Like so many volunteer efforts I had seen on my trip, Hanseatic Help had sprung up virtually overnight to address an overwhelming need.
After showing me around, Alex took me to visit a local refugee camp that Hanseatic Help supplies. Not long ago it was a warren of canvas tents. Now it is a jigsaw puzzle of modified shipping containers outfitted with bedrooms, bathrooms, offices, and stairwells. Alex showed me to the camp "store" in a container near the entrance. It was brightly lit and neatly organized. There were shirts and pants and dresses on racks; shoes arranged by gender and size; and a separate section for kids clothing. The wares, of course, were free, but the presentation was as attractive and orderly as any thrift store back home.
Alex introduced me to Rikarda, the store manager. Before the crisis, she was no different from any other university student. Then tens of thousands of refugees arrived in Hamburg, some hoping to stay, others to reach Sweden, and she decided to help. She had worked in the store for over a year, and had no intention of leaving. Her best friend was a refugee. She had come to love the people at the camp like she loved her own family.
In her words I heard an echo of the truth I've discovered on my journeys over the years. Beneath the skin of culture and language, religion and creed, we are all the same. What divides us is far less than what unites us. But this truth is hard won. It must be lived to be believed. Rikarda had lived it, as had Alex and Ann.
This, more than anything else, is the seedbed of peace.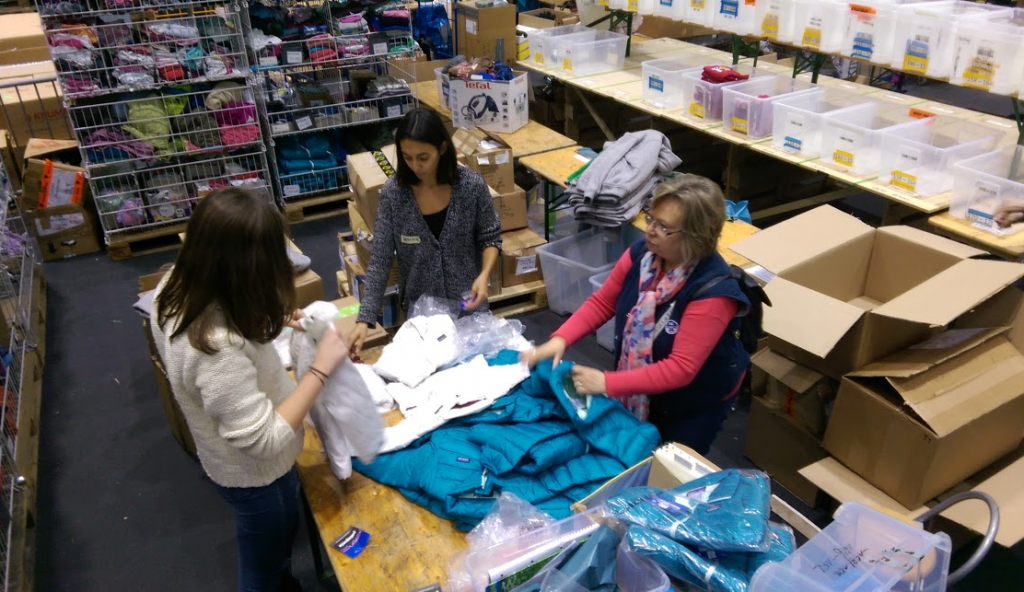 Part 5 –  After five weeks on the refugee route from Greece to Germany, I'm starting to ask a different kind of question: What exactly is a "refugee" anyway? Is that term enlightening, or is it ever so subtly dehumanizing?
As a storyteller, I live every day in the shadow of language. I'm well aware ofits power and its inherent limitations. "Refugee" is a necessary word. There is no substitute, at least not in English. But I dislike it nonetheless. Because it fails to capture the beautiful specificity and specific beauty of the human beings to which it refers.
Yes, refugees are people seeking refuge. But that's nothow they think of themselves, not by a mile. In their minds, they are professors and artists, doctors and teachers, lawyers and entrepreneurs and engineers. They have families and homes and dreams that don't include tents in foreign fields, donated clothing, meal rations, and borders with razor wire. The term "refugee" says nothing of the lives they lived and left and long to make again. It says nothing of their talents, their wisdom, or their dignity.
Refugee is a placeholder word, yet it is all we have. So I live with it, and use it, and cringe when I see it. Because I know people who answer to it, and they are so much more than the word implies. They have names and hearts and faces I couldn't forget if I tried. Look in the mirror and you will see them. They are you and they are me—with one exception: their lives have been torn apart by violence. Their request of us is simple.
Will we give them a chance to live again?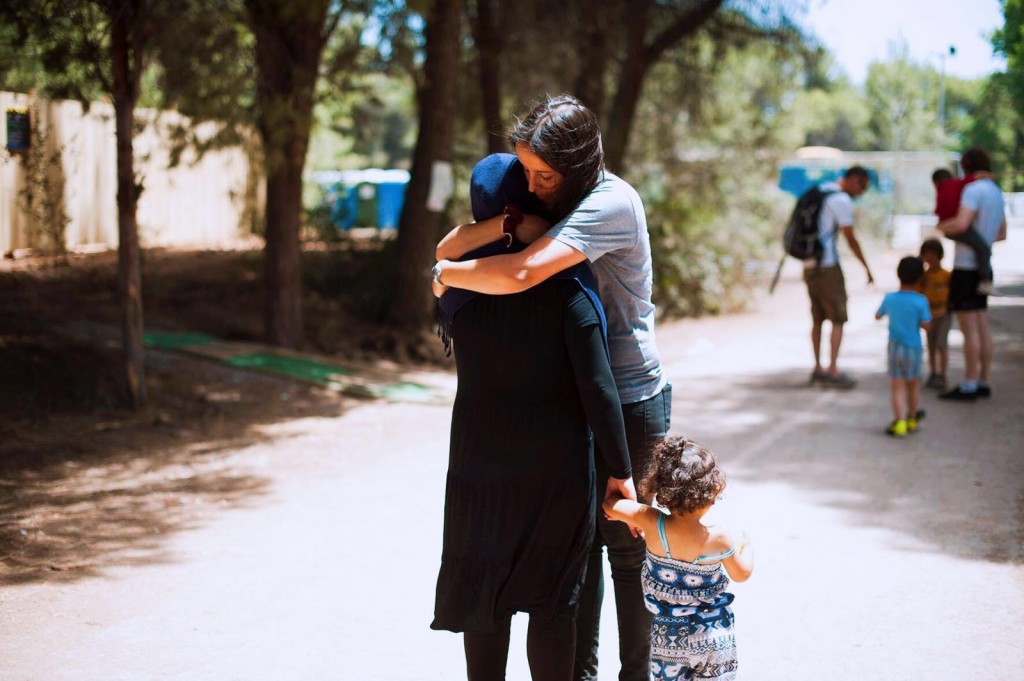 To support the life-giving work of Together Rising through The Compassion Collective, go to: https://app.mobilecause.com/form/gux8IQ
If you prefer to give via Paypal, use this link: https://www.paypal.com/cgi-bin/webscr?cmd=_s-xclick&hosted_button_id=WWB5QK23AG8C8