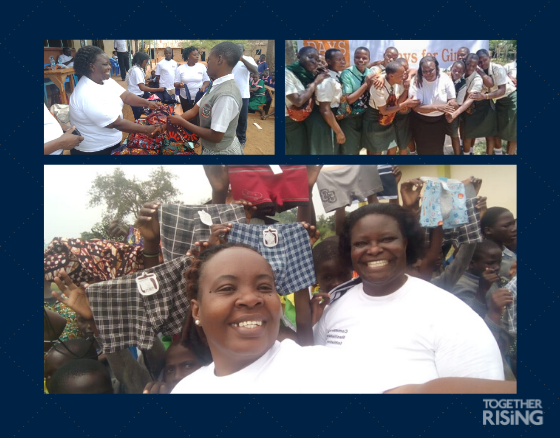 A few months ago, you showed up for people going through the hardest times of their lives without access to everyday items that so many of us take for granted – by investing in the purchase and distribution of underwear, tampons and bras to women and girls in homeless shelters in the United States.
This time, you sent your investment in dignity and health all the way to Busia, Kenya!
Lorna, a fierce Kenyan advocate, explained to us that because women and girls don't have the mensuration supplies they need, they face serious stigma, resulting in dropping out of school and enduring sexual abuse in exchange for sanitary supplies. Instead of waiting for someone else to take action, she became the gender equity champion her community needed.
Lorna now hosts workshops about menstruation. Everyone's invited, including boys, because Lorna knows that they too play a vital role in ending stigma. The community gathers together around food while Lorna teaches menstrual care. She distributes menstrual supply kits and explains how to use them. Lorna also gives boxers to the boys as many have never owned a pair of underwear. Lorna's workshops are widely attended resulting in hundreds of community members gaining access to the resources and knowledge they need to care for their bodies.
You recently invested in Lorna's work for her community by providing 1,000 Day for Girls menstrual kits. These kits include a reusable pad (that lasts three years!) and absorbent liners. The pads are made with colorful fabric that hides stains and the liners look like washcloths for judgment-free laundering! And you even sent some boxer briefs for the boys!
Thank you for showing up for Lorna and her community!!!