Rosa – tenacious, loving & kind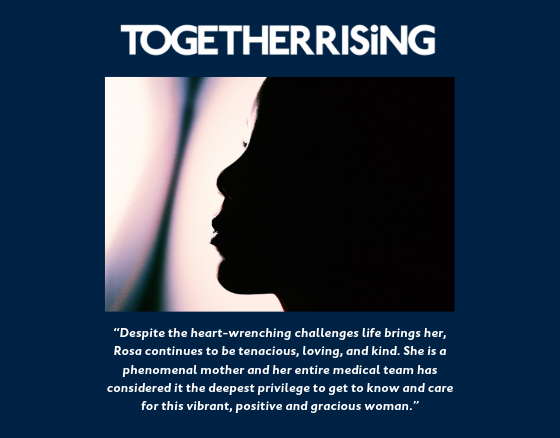 Together Rising exists to turn our collective heartbreak into effective action. You tell us what is breaking your heart and we listen.
Recently, Julie shared that her heart was broken by the news that the administration is rolling back medical deferments for immigrants receiving life-saving medical care - a dramatic change that endangers hundreds of seriously ill people including children with sickle-cell anemia, cancer, and other illnesses.
Julie said she was angry, scared, and devastated for the families whose loved ones would not only abruptly lose the care they desperately need, but be forced to leave the country while gravely ill. "I'm heartbroken," Julie said. "What can we do?"
Around the same time, we were introduced to Rosa, by her oncology nurse Amber. Rosa is one of the people who could be affected by this new policy.
Rosa is a single mother of three who works full time cleaning houses as she receives grueling, aggressive treatment for an incurable cancer. Rosa's oncology nurse, Amber, wrote to us at Together Rising about how amazing Rosa is. In Amber's words, "Despite the heart-wrenching challenges life brings her, Rosa continues to be tenacious, loving, and kind. She is a phenomenal mother and her entire medical team has considered it the deepest privilege to get to know and care for this vibrant, positive and gracious woman."
Rosa needs help to be able to continue to her vital treatments and to continue to be able to provide for her family. In honor of Rosa's courage, and Julie's heartbreak - and each of you who step up to be the bridge between heartbreak to action - we are covering three months of expenses, plus groceries and school supplies, for Rosa's children.
When Amber and the team at the cancer center learned that you were showing up for Rosa, Amber wrote us, "This will be such a game changer for Rosa and her family. Our team here is already crying big, ugly, happy tears on her behalf."
Thank you for continuing to invite us to the sacred ground of your heartbreak. We are listening.