We have a beautiful update from Billy's mom, Teagan!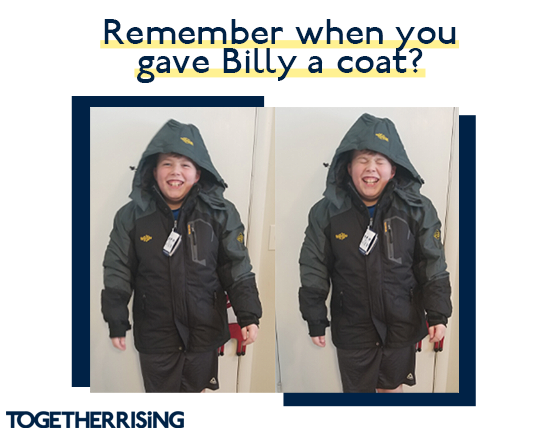 At Together Rising, we are not a community of "givers" and "receivers." We are a community committed to showing up for each other — sometimes we need a little extra and sometimes we give a little extra. This is why we love Billy and Teagan's story.
You met Teagan this time last year when she wrote to us about her family's need. After her husband returned from deployment, they learned that their mortgage payments had increased without warning and they fell three months behind in bills. They spent every penny they had to catch up, so when their boys, Billy and Wes, had outgrown their beds and Billy had outgrown his coat, they were unable to afford new ones.
You — through Together Rising — stepped into that gap for their family and provided comfortable bunk beds and a warm coat for Billy. Teagan wrote to tell us: "I think of you often when I tuck my boys into bed each night in the bunk beds Together Rising provided for my family."
Well, just ten months after receiving the bunk beds and coat from you, Teagan showed up for another family through Holiday Hands, just as you showed up for hers!
Please know that whether in this moment you need a little extra, or have a little extra, you are equally invaluable to this community. Let's belong to each other forever.
And a huge thanks of gratitude to TEAM LOVE — our monthly and recurring donors — who make it possible for us to respond quickly when families like Teagan's need a little extra.
(Names have been changed.)