You continue to stand with Puerto Rico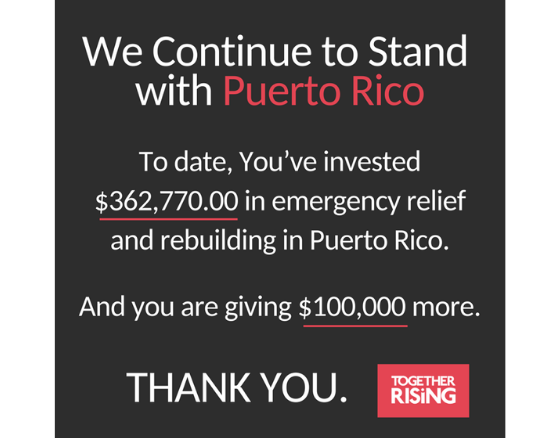 Last week, Puerto Rico was hit with the biggest earthquake the island has endured in a century.  The 6.4 magnitude quake collapsed hundreds of homes and multiple schools on the southern coast – and left thousands of families displaced or sleeping outdoors.
Still reeling from last week's destruction, they have withstood more than 80 aftershocks, and this Saturday were struck with another 5.9 magnitude quake – triggering landslides and leaving close to 60,000 people without power and terrified of additional looming quakes.
Officials report that this most recent devastation surpasses the utter destruction wrought by Hurricane Maria just over 2 years ago.
You – through Together Rising -- have stood with the people of Puerto Rico for more than two years. To date, you have sent $362,770. .
You funded the first deliveries of medicine to Puerto Rico when the commercial supply chain broke down. Your donations funded medical kits, mobile medical units, Emergency Response Plans for health centers, maintenance of vaccination programs, and equipping health centers with reliable communication devices.
Today, you are making an additional investment of $100,000 to ease the suffering of our brothers and sisters in Puerto Rico.
We are sending $100,000 to Direct Relief today to pay for urgently needed medicines, to supply power back-up and lights, to equip their mobile health outreach units, and to support a hub of medical services in Guánica -- one of the biggest centers for displaced families.
We are sending all of our love to our fellow Americans in the beautiful island of Puerto Rico.
And we are sending deep gratitude to our recurring donors who trust Together Rising with monthly gifts – you provide us with the ability to respond immediately when crises strike, and enable us to continue to stand with our brothers and sisters in crises even when the news cycles move on.