Originally published on Momastery
A couple of weeks ago, at a church in Lakewood, Ohio, a woman stood up during the Q&A time and asked me to talk about our non-profit Together Rising. I smiled and told her that Together Rising is my baby. I told her that besides my family, faith, and sobriety—Together Rising is the greatest gift of my life. I told her that the stories of the warrior families we serve everyday crack my heart open again and again, making my capacity to love bigger and bigger. I told her that the women that make up our Board and our volunteers are my heroes. I told her that I suspect that every word I write is really about Together Rising.
The woman remained standing and then she said, "I suspected you felt that way. If all that is true—why don't you talk about Together Rising more often? We know there's so much going on behind the scenes, and we want to hear about it. It matters to us. We want to be IN IT with you." And the Lakewood audience will tell you that I just stared at her for a long, awkward moment.
Wow, I thought. Why DON'T I write about Together Rising more? I've been thinking about that one.
I think I've always had this idea that I shouldn't be loud about what happens at Together Rising. I tell the Board that I want us to be the opposite of what people suspect of non-profits: I want us to be TRUER AND BIGGER AND BETTER in private than we are in public. I just want us to quietly go about doing good. And I am so wary of bragging about do-gooding that I just assumed that the right thing to do was to keep my mouth shut. But I've been thinking about that Lakewood warrior, and I think maybe I thought wrong.
Because you guys don't even know. You don't know what happens at Together Rising EVERYDAY. EVERYDAY of the year. We all know about the Love Flash Mobs and School Redos and Holiday Hands but those are not even the BEST PART. The best part is the small things with great love that happen everyday. You don't know about the bills you've paid and the tuitions you've funded and the lights you've kept on and the programs you've launched and the children you've clothed and the hospital bills you've wiped away and the lives you've touched and the hope you've restored. Miracles happen every day through Together Rising, and I get to see it all—but I haven't been showing you. I'm sorry about that. That's going to change. Because Together Rising is the most important, beautiful party I know about and I want this place to be a constant invitation to JOIN—as a giver, receiver—it makes no difference to us because we've learned everyone is AND/BOTH. Everyone is a giver and a receiver at the exact same time.
Let's start here.
A few weeks ago a mama named Clarissa wrote to us and told us that she had entered her son who has special needs into a contest to win a therapy bike. She was about to enter him into a second contest and she wrote to Together Rising to ask if I would promote the contest on Facebook. Clarissa wrote:
"My one and only son Jonathan was born with cerebral palsy, and although he is unable to walk, or speak, he is the epitome of JOY. He has a smile that lights up any room, his joy for life is so contagious, and he is longing for adventure. . . . That is the reason I am writing to you and your Monkees, as a single mom there is only so much I can do for him financially and lately he has been pointing to his cousins' bike that we keep stored in our garage, as if to say 'I want to ride a bike.' Jonathan wants a bike so bad, I can see him riding around with his big smile and the wind in his face."
The Board looked at the details and we talked about it. And finally, Liz wrote to Jonathan's Mama and said something like:
"Hello Sweet Warrior, G doesn't believe in asking her readers to vote. But we believe in you and we believe in your son. Which is why there's a brand new $6,000 bike on its way to your doorstep right now. It'll be there in a few days. Don't enter that contest, mama. You already won. LOVE WINS. "
And of course Jonathan got his bike. And Clarissa just couldn't believe it, and she has sent us at least seven thank you notes with pictures and videos—most of her and Jonathan riding their new bike together. Let's just say we learned that if you want TO GET HER RISING sometimes you gotta get her baby riding. Clarissa can't believe that people would love them enough to give them this gift. But that's what we did—all of us—together. Because of course all these thank yous are not just for me or for the people working behind the scenes to make this happen. They are for each and every one of us in this precious community who gave to get Jonathan riding, and To Get Clarissa Rising.
Here they are. Do you believe it? I can't stand it.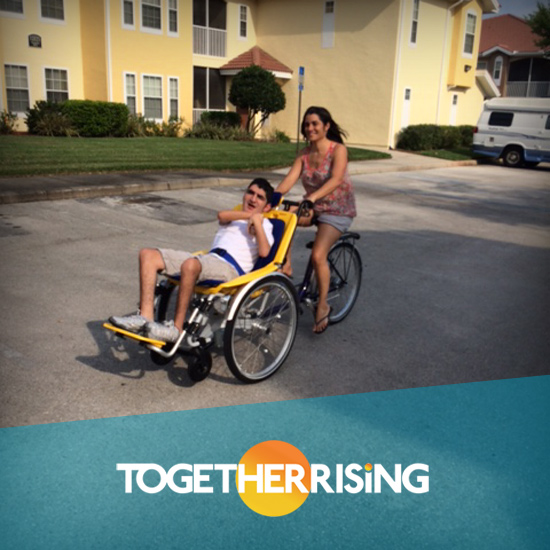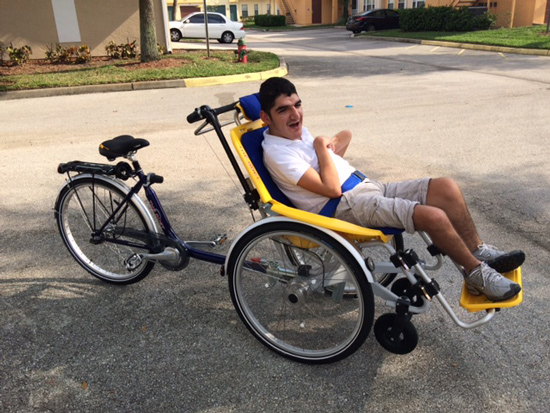 This was the first time for the two of us on the bike together, can you tell how excited we were? What an amazing experience this has been!!
Life is Good!!! You guys are Awesome!!! Thank you! Thank you! Thank you!!
Clarissa & Jonathan 
You guys: stuff like this happens EVERY WEEK. I'm sorry I haven't been telling you these stories. I'm going to start now.
LOVE YOU. We belong to each other. #togetherrising

G & Together Rising