Together Rising has revolutionized online giving through Love Flash Mobs. Love Flash Mobs are fundraisers in which thousands of strangers give in order to meet a particular need in a matter of hours. Click on the images below for some examples of our Love Flash Mobs:
---
January 2020
$653,354.92 distributed after an emergency Love Flash Mob for Australian families and wildfire devastated by bushfires.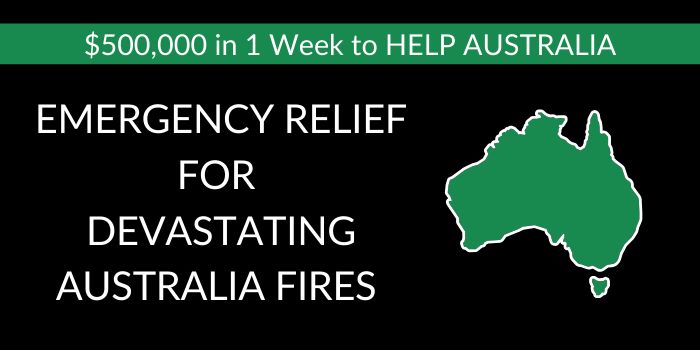 ---
June 2019
$2 Million raised in 2 days during a Love Flash Mob for emergency response and long-term accountability for the child detention crisis. Learn More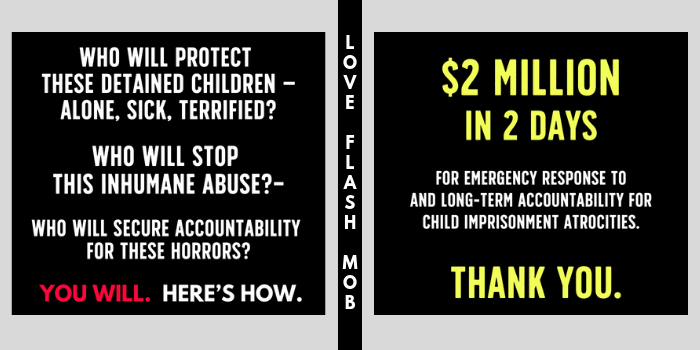 ---
May 2019
$200,042 total raised in 24 hours during a Love Flash Mob to provide 32 kids aging out of foster care with one-on-one support from a social worker; essential household goods; mentors for counseling, education, and job training programs; and community through monthly workshops focusing on group support, nutrition, credit repair, work readiness, and exercise.
---
May 2018
$4.2 Million total raised ($1 Million raised in the first 9 hours) during an emergency Love Flash Mob to provide advocates and legal representation for children separated from their families at the border. Learn More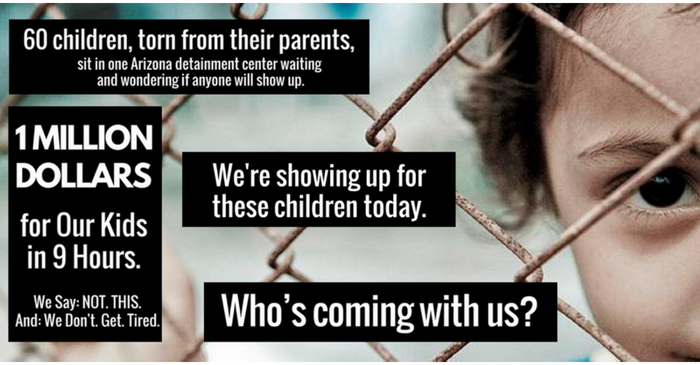 ---
April 2018
$594,844 raised in 48 hours during an emergency Love Flash Mob to provide the besieged people of Syria with food, hygiene kits, and mobile medical teams.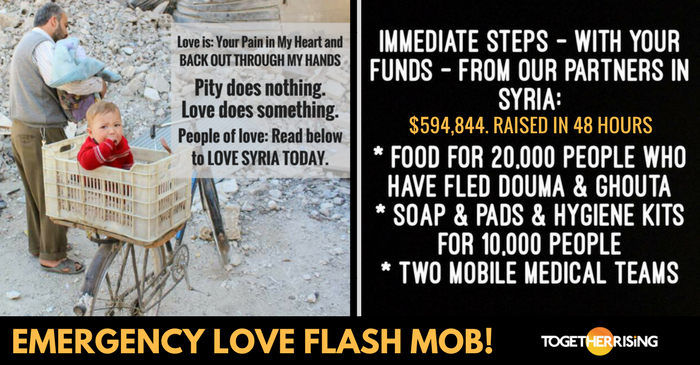 ---
December 2017
$350,000 – half to buy the first transitional home in New Hampshire for mothers recovering from opioid addiction and their babies, and half to fund life-saving, community-healing recovery work in Baltimore.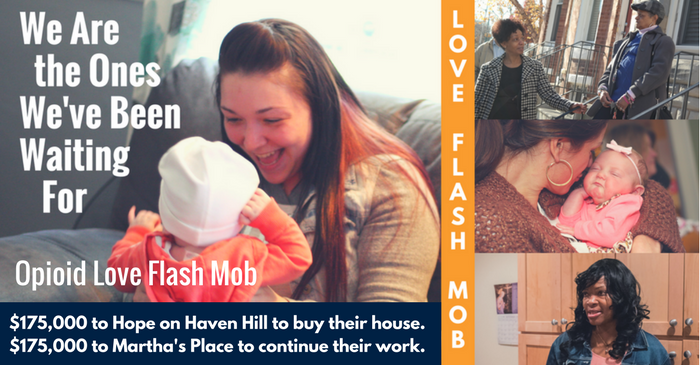 ---
March 2017
$215,000 to ensure that 10-year old Samir, a child severely wounded by ISIS, received the treatment needed to heal, and to provide several internally displaced families with food, shelter and protection.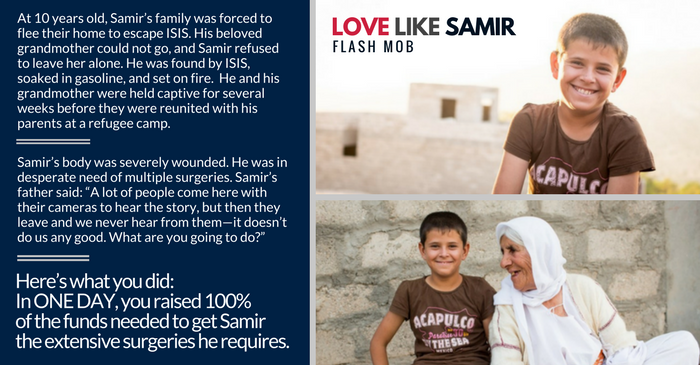 ---
December 2016
$1,168,311 to provide life-saving aid to refugees in Aleppo and across Syria, including the purchase of two ambulances and a mobile hospital, as well as funding a pediatric hospital.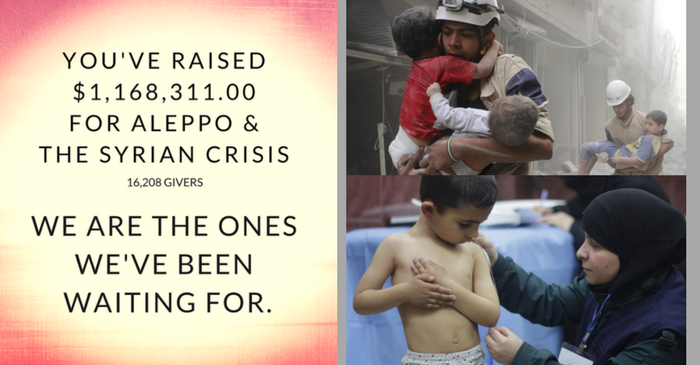 ---
May 2016
$560,000 to continue our work with refugees abroad and to care for homeless youth in the United States, including among the most vulnerable of the homeless – teen moms, LGBTQ+ youth, and those who have aged out of the foster care system.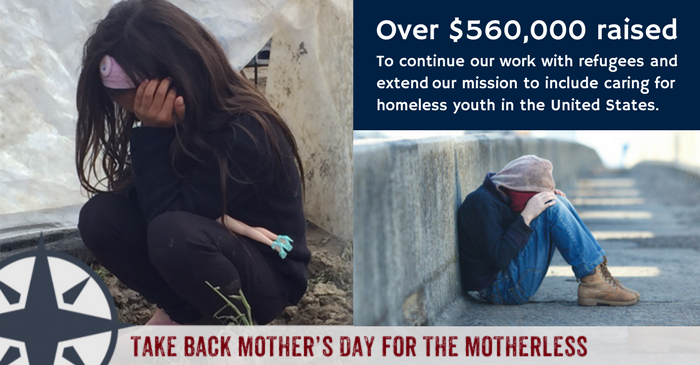 ---
December 2015
$1,000,000 in 31 hours to provide food, shelter, and warmth for refugees in Europe.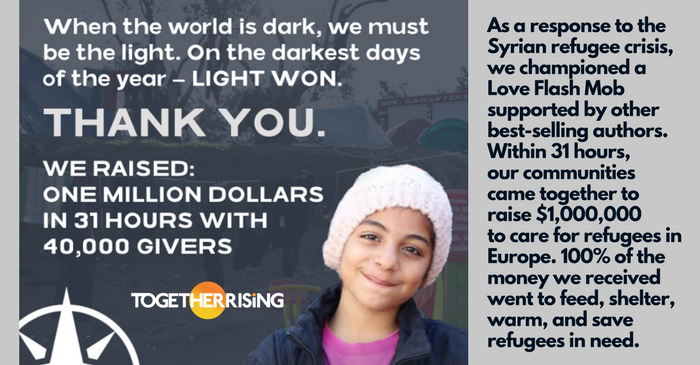 ---
October 2015
$475,141 in 24 hours to build a maternity wing in Haiti so women could give birth with dignity, and to provide clothing and strollers to mothers giving birth in refugee camps in Berlin, Germany.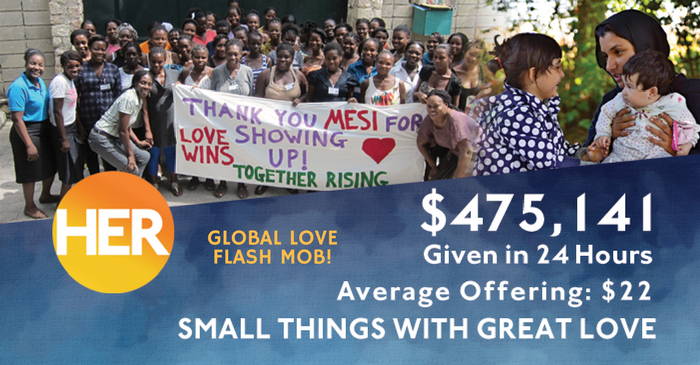 ---
May 2015
$268,248 in 26 hours to meet the needs of everyday heroes across America – including gift cards to ease families' financial burdens, funding to enable a ten-year-old activist to build local homeless shelters, and running legs for a four-year-old whose legs needed to be amputated.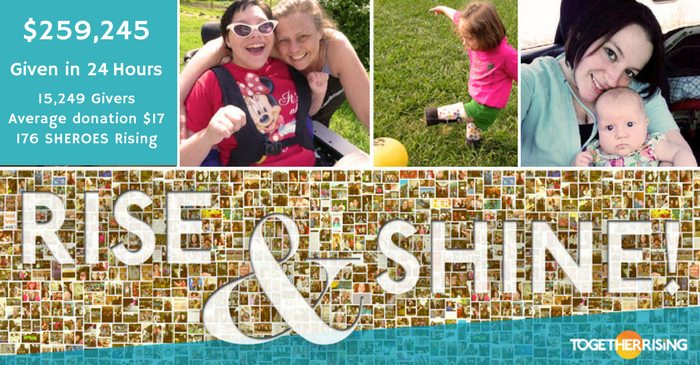 ---
May 2014
$118,473.50 in 8.5 hours for five women fighting Stage 4 cancer and their families, including providing a last vacation with a family as an opportunity to make new memories, and paying off a mortgage so the grieving family would not be burdened with the expense.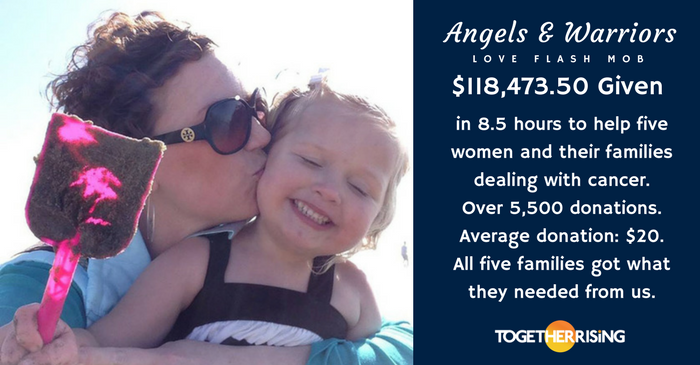 ---
September 2013
$100,000 in 6 six hours to provide four alert dogs for children desperately in need of canine companions because of medical conditions.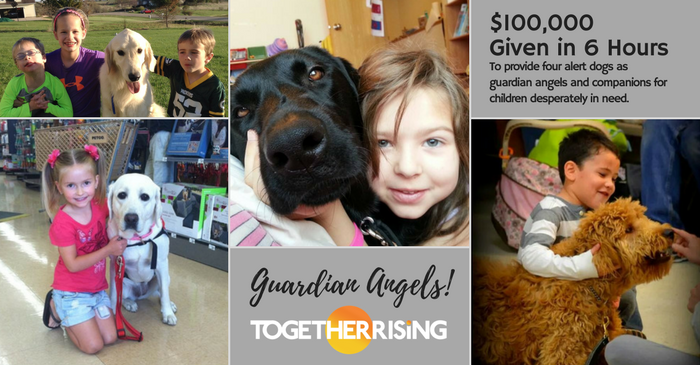 ---
March 2013
$85,000 in 5.5 hours so a homeless shelter for young mothers could bring a new teenage mom and her young son off of the Indianapolis streets to live and thrive in the home.